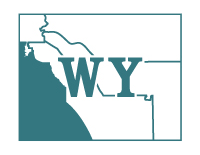 Snow Country Road Trip
Western Wyoming: Where the route is also a destination

I knew you could come back from vacation needing a vacation. But I didn't know you could come back from vacation feeling like you had two vacations. However, that's exactly what it felt like when our family returned from a recent winter trip to Wyoming.
Our final destination, and original vacation, was Grand Teton National Park. But since we were driving there from Salt Lake City we decided to add a few days to our trip. Why not enjoy the route while we were at it? Looking back, what we were really doing was building in a bonus vacation.
Hot fishing on Ice
"It's weird to think our most successful fishing trip to date was in February." I had to agree with my wife, Emily. Ice fishing at Flaming Gorge National Recreation Area was a satisfying way to start our trip.
While the gorge was far from flaming—the reservoir was covered in ice and colorful tent towns erected by other anglers—it definitely belonged in Wyoming's Sweetwater County. In fact, the water was so rich in fish we met our limit early in the afternoon.
We all playfully argued over who deserved the credit for our catches. In the end it was Emily, who seemed to have the magic touch when it came to jigging our lines and moving them at just the right moment, who convinced us to all share the credit. What we weren't about to share, however, was the ice cream we'd be celebrating with.
Four Scoops of Fun
Despite not having any stoplights, the small town of Farson was a required pitstop between Flaming Gorge and Pinedale. The moment the kids saw the big brick building with the banner advertising "Home of the Big Cone" their "Are we there yet?" became "We need to go to the bathroom." Emily and I laughed. But we weren't about to turn down an opportunity to have ice cream.
None of us knew quad cones even existed until our visit to Farson Mercantile. "And here I thought eating a two-scooper was a race against time," I told our son Dylan, the only one daring enough to order one of Farson's famous four-scoopers.
Wind River views
"It's weird to think we went to school during winter break," our daughter Hannah said from under her helmet the next day. She and Dylan were the proud, most recent graduates of White Pine Ski Resort's ski school.
While they were learning the basics, Emily and I got in a few black diamond runs. We spent the rest of the day exploring White Pine's green and eventually, blue, runs with the kids. We didn't see any coyotes on Coyote, lynx on Lynx or porcupine on Porcupine, but we did get fabulous views of the Wind River Range while skiing down Fortification Mountain.
The day ended with Emily and me explaining the concept of "lift lines" to the kids. All they knew was that the lift operators knew them by name and they never had to wait to get up the mountain. If only it always worked that way!
Skiing under the stars
"If it's weird to ski when it's dark," Dylan said the next evening before leading his little sister into the night, "then call me a weirdo." After checking into Snow King Resort -- which is practically in Jackson's backyard -- and walking to dinner downtown, we hit the slopes for our first experience skiing under the stars. I can't speak for the kids. But from the looks on their faces, night skiing was just as exhilarating for them as it was romantic for Emily and me.
Less than 12 hours later we were back on the mountain. But instead of carving our way down on skis, we took a private group snowboarding lesson. After a few challenging, yet hilarious hours, we traded our boards for tubes. We slid and did 360s like we were in the Fun Olympics.
In between boarding and tubing, we took in views of the Tetons. We'd be spending the next two days in the national park. Our vacation hadn't even officially begun yet. But here we all were, already in full-blown vacation mode!
Eating snow in Alpine
"It's weird to think we used to live without wifi," I said to a nodding Emily. According to Google, the drive home from Grand Teton National Park should take about five hours. But also according to Google, Star Valley has some of the country's best snowmobiling.
We couldn't just drive through a scenic 45-mile valley bordered by two mountain ranges without at least stopping to see some of it by sled. So, in the small town of Alpine, just 40 miles south of Jackson, with several rental options available, and the ability to jump on the Grey's River trail system with no driving or towing, we hopped on two 2020 Ski-Doos. Our rentals came with all the necessary gear. We rode out of the shop's parking lot directly onto the Greys River trail system.
Respite by the fire
After about 30 miles of rolling hills and icy, yet idyllic views, we checked into a cozy cabin at the Box Y Ranch and Hunting Lodge and enjoyed a homemade meal by the fire in the lodge.
The next morning, we were back on the road for one last stop. According to what else?—Google—Pine Creek Ski Area just 90 miles south of Star Valley is one of North America's best-kept secret ski resorts. We'd immediately be out of the running for parents of the year if we didn't stop.
Wyoming, we'll be back
Weird might not be the right word. But it was certainly surprising to arrive home in Salt Lake City feeling like we'd just come back from two vacations. Our friends and family expected us to be exhausted. But we weren't. We were wide awake. I'd go so far as to say we were ready for Wyoming, round two.