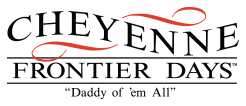 Cheyenne Frontier Days
10 ways to buckle up at the World's Largest Outdoor Rodeo

Since 1897, the rough-and-tumble town of Cheyenne, Wyo., has honored its heritage with a Western show that's grown to become Cheyenne Frontier Days. The bucket list-worthy, 10-day celebration features professional rodeo events, A-list country music acts, spectacular parades and, of course, pancakes (as in, 100,000 pancakes). Today, the event draws visitors from all over the United States and more than 50 countries. Here's what you don't want to miss during the festival, which runs July 19–28.
1. The Rodeo
Electrifying rodeo events such as bull riding and barrel racing wow audiences during the festival, so you'll have plenty of opportunities to get in on the action. As host of the world's largest outdoor rodeo, Cheyenne Frontier Days earns its reputation as the "Daddy of 'Em All®," drawing some of the biggest names in the sport for a shot at more than $1 million in cash and prizes (a sizeable step up from the $25 purse winning cowboys received early on!).
2. Headliner Entertainment
When the sun goes down, visitors and locals alike return to the arena for Frontier Nights®, eager for the most popular country music artists to take to the stage. This year, an impressive roster of musical acts will entertain crowds with boot-stomping energy during Cheyenne Frontier Days, including Lady Antebellum, Rascal Flatts, Tim McGraw, Keith Urban and Miranda Lambert. Concert tickets range from $39–$86.
3. Carnival Rides
The carnival is an exceptionally popular event during Cheyenne Frontier Days, so much so that you can purchase a daily armband for unlimited rides or one that lasts the length of the festival to ride every ride, every day. Look for thrill rides, fun houses, kiddie rides and carnival classics like Tilt-A-Whirl and Scrambler. Midway games draw in visitors eager to win a big prize. The giant slide and Ferris wheel are great for bird's-eye views of the carnival grounds. Don't leave without a funnel cake and a deep-fried Oreo!
4. The Food
It's safe to say that there is a lot of food at Cheyenne Frontier Days. Yes, there are tasty carnival food staples, but there's so much more. The Chuck Wagon Cookoff is a must for free cooking demos by chuck wagon teams, each assigned five foods they can use to whip up from-scratch meals using period cast iron cooking utensils and open fires (no microwaves here!). You'll also find plenty of delicious barbecue ribs, brisket, baked beans and grilled chicken, both at restaurants across town and sold by vendors throughout the festival.
5. Old Frontier Town
Explore the rich heritage of Cheyenne at Old Frontier Town, just steps from the rodeo arena. Here you'll find authentic Western wares made by local artisans, like saddles, moccasins and lassos. Kids will love activities such as the duck races and meeting Western heroes and outlaws. The petting zoo is a perennial favorite, so get your camera ready for loads of photos with the kids interacting with baby goats, camels and llamas.
6. Indian Village
The Cheyenne Frontier Days celebration takes great care to recognize the significance of Native Americans to the growth of the West. At the Native Indian Village, their history and heritage are shared through authentic regalia, stories, music and a traditional powwow gathering complete with dancing to the beat of a handmade drum. You'll also find artisans, kids' craftmaking and food vendors tempting festival-goers with Buffalo Burgers and Indian Tacos.
7. Old West Museum
At the Old West Museum, the history of Cheyenne and the Old West truly comes alive through rotating artworks and artifacts, including horse-drawn buggies, stagecoaches, trophy saddles and memorabilia from past Cheyenne Frontier Days celebrations. Inside, don't miss the short film on the history of the annual celebration. The museum is open year-round and hours will be extended during Cheyenne Frontier Days.
8. Western Art Show & Sale
As one of the most prestigious national exhibitions of Western art, the Western Art Show & Sale attracts leading artists from across the country. Dramatic artworks celebrating the American West will be on display and for sale at the Old West Museum. An official poster and a print commemorating this year's Cheyenne Frontier Days will be available for purchase at the museum, too.
9. Parade
If you miss the Grand Parade at the start of Cheyenne Frontier Days, you'll have three more chances to revel in the music of the lively marching bands, horse-drawn stagecoaches, colorful floats and rodeo princesses that snake their way around downtown Cheyenne. Yes, this crowd-drawing 90-minute parade that begins and ends at the Wyoming State Capitol is so popular that organizers run it four times throughout the festival to the delight of visitors.
10. Pancakes
The only draw bigger than the rodeo may be the legendary (and completely free) pancake breakfasts put on by the Kiwanis Club at the historic Depot Plaza during Cheyenne Frontier Days. Honestly, we'd go so far as to say they're what seal the deal with musical acts. Keith Urban has been known to go to town on a stack of pancakes in Nashville, so keep your eyes peeled for him at the breakfast. Line up early to get those first flapjacks when the breakfast begins at 7 a.m., but don't frown if the line is long. You'll have a front row seat to watch local Boy Scouts catching pancakes as they're flipped off the griddle.
Find all the details you need to plan an epic getaway to Cheyenne Frontier Days.