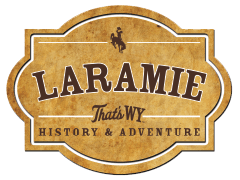 Loving Laramie
A Colorado couple finds slim crowds, fat bikes, fresh powder, and groomed trails in neighboring Laramie, Wyoming

East Coast friends and family often tell us we're so lucky to live in Colorado where we're so close to the mountains. What they don't know, and what we didn't know until recently, is we're lucky to live in Colorado because we're so close to Wyoming! Don't get us wrong: winters in Colorado are fun. But to escape the crowds and commercialism, we recently drove north to Laramie. This college town where cowboys ski in Wranglers also offers world-class winter recreation.
Western hospitality and affordability
"Call me Kat," said our hostess at check-in. The hotel's owners, Kathleen and Mike, welcomed us like we were old friends. An older, two-story white house with green trim and a wraparound porch, Mountain View Historic Hotel felt more like a home than a hotel. It smelled like one too.

"Do I smell homemade cinnamon rolls?" my wife, Angela, asked. She was wrong. But it felt so right when just 30 seconds later we were biting into homemade cinnamon raisin scones slathered with jam. Mike poured us fresh coffee, the beans ground on site, then he showed us to our room. It boasted a big lodgepole pine bed and incredible views of the Snowy Range. No wonder the hotel was called Mountain View. But all this hospitality for less than $100/night? That didn't make sense! Although we certainly weren't complaining.
Just three miles up the road, Snowy Range Ski Area also had reasonable prices. Our two all-day lift tickets were less than the cost of one ticket back home. And since rentals and lessons were cheaper too, it was the perfect place to try snowboarding. But the best part was the lack of lines. Between the five lifts, we managed to get in at least a dozen different runs before lunch. That's unheard of at our home mountain!
Full throttle and full stomachs
"We'd better get two," I said the next day at Albany Lodge. Our original plan was to rent just one double snowmobile. But on the scenic drive to Medicine Bow National Forest—the playground we'd be exploring by sled—I realized we'd both want to feel the thrill of full throttle. I was right. Angela ate more powder than I did! I practically had to drag her off the Polaris when it came time to return our rides. The best part of renting at Albany Lodge was we didn't have to haul the snowmobiles anywhere. More than 225 miles of trails started right out its front door.
"We'd better not get two," Angela said, referring to entrees later that night at Altitude Chophouse and Brewery. She was right. By splitting the beef brisket—smoked and slow roasted for 15 hours—we still had room for a delicious side of sundried tomato mac and cheese, washed down with pints of Pedal House Pils, brewed on site. Our waitress told us the beer was named for a beloved local bike shop. We didn't have room to consider her dessert recommendations. But we did love her idea of renting fat bikes from Pedal House while we were in Laramie.
Happy trails and hoppy times
The fatter the better. We'd never ridden bikes on snow and ice before. But we quickly learned that the fatter (and surprisingly, flatter) the tire, the more traction you have. After just a few minutes of spinning our rental wheels through the snow-covered trees, it was clear the cycling community was serious about grooming its fat bike single-track. Just 14 miles from Laramie and at around 8,000 ft., Happy Jack Recreational Area was the perfect place for a network of trails consistently covered with good snow. After just one lap around the Haunted Forest I told Angela I wanted a fat bike for my birthday. The owner of Pedal House had warned us that most people who rent one end up buying one. "That's fine," Angela said. "Just as long as I get a snowmobile for mine."

The foamier the better. Neither of us were beer aficionados, but that afternoon we quickly learned from the friendly brewmaster at Coal Creek Tap that you want a nice head on your beer. We each had a sampler flight and swapped fat biking stories with the locals coming in to fill up their growlers. We'd been in Laramie for less than 48 hours, but somehow us outsiders were already on the inside!
Mother nature and modern history
On our last full day in Laramie, we rented Nordic skis and hit the road for nearby Vedauwoo, which we knew to pronounce vee-duh-voo (not woo) thanks to our new friends from the night before. Since there was little traffic, it only took about 19 minutes to drive the 19 miles southeast to this recreational area famous for its cool rock formations rising above a sea of pine trees. The giant hoodoos—revered by Native Americans and rock climbers alike—looked straight out of Bedrock. But instead of seeing Fred Flintstone, we just saw other skiers and snowshoers out admiring Mother Nature's handiwork.
"It tastes like we just traveled back in time," Angela commented later that night at Cavalryman Steakhouse. We'd already finished our table's basket of Wyoming soda bread—made from an early settler's original recipe—and were halfway through our Karro Kampos pies—served exactly as they would have been to Laramie's sheepherders in the early 1900s.
"It sure does," I agreed, looking up at the old sepia-toned photos on the walls around us. They were a great reminder of what Laramie looked like before it was home to a university, bike shops that rented fat bikes, and five local breweries.
Unlike some places that have become more congested over time, contemporary Laramie didn't feel crowded. For us, a Colorado couple who loves playing outside in the winter, it was practically paradise.